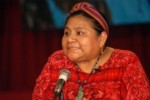 Guatemala Peace Nobel Prize Rigoberta Menchu announced she will mediate the FARC unilateral liberation of ten militaries on her blog on social network Twitter along ex Senator Piedad Cordoba, leader of the group Sociedad Civil Colombianos y Colombianas por la Paz.
Earlier, Menchu said from Guatemala she is guarantor of the two-phased process of April 2nd and April 4th and termed an honor her involvement along Brazilian Socorro Gomez, head of the World Peace Council, among other female personalities.
The relatives of the ten militaries the Revolutionary Armed Forces of Colombia (FARC) is to release headed today to Villavicencio, capital of Meta, epicenter of the humanitarian event.
Red Cross International Committee delegate for Colombia Jordi Raich, said the logistics is ready to fly the prisoners on March 31st to Brazil and return to Villavicencio April 1st, the entire operation to develop amid strong anti-rebel military drive with 68 guerrillas killed in one week.  (Taken from PL)