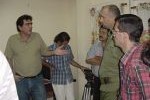 Roberto Gonzalez Sehwerert, brother of Rene, one of the five antiterrorist fighters unjustly held in the Unites States, passed away this Friday morning in Havana.
Roberto Gonzalez Sehwerert, an outstanding lawyer who spent the last years of his life fighting for the liberation of his brother Rene, and the other four Heroes of the Republic of Cuba, who served unjust sentences in US prisons, passed away this Friday in Havana.
As it had been already informed, Rene Gonzalez was seriously ill due to a cancer.
According to his last wish, his remains will be cremated and kept vigil over in a private ceremony.
Taken from Cubadebate and translated by Escambray.