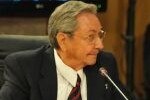 President Raul Castro, First Secretary of Cuba's Communist Party (PCC) Central Committee, met with Spain"s Communist Party general secretary Jose Luis Centella, who is visiting Cuba.
During the meeting, both leaders continued strengthening the fraternal relations existing between the two political organizations, Granma newspaper reported on Monday.
The meeting, held on Saturday afternoon, was also used to exchange many issues of interest for both communist parties.
The also United Left spokesman in the National Congress from the European country was accompanied by Malaga's National Congress legislator Alberto Garzon, and Gloria Aguilar, secretary of the Spanish Communist Party's International Cooperation.
As part of his stay in the Caribbean country, Centella met with other PCC and government leaders, social and parliamentary organizations, as well as visit many sites of historic and social interest.
Taken from Prensa Latina