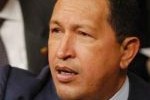 A survey recently carried out by the Center for Measurement and Interpretation of Statistical Data shows that President Hugo Chavez has the support of 58.9 percent of Venezuelan voters.
The poll, released Sunday by journalist José Vicente Rangel on his television program broadcast on the private Televen channel, revealed that opposition candidate Henrique Capriles, of the so-called Democratic Unity Coalition, would obtain 31.3 percent of the votes.
According to the survey, in a polarized scenario, the head of State would garner 63.8 percent of the votes, and his main rival 36.2 percent, giving Chavez a comfortable 27.6-point advantage.
The poll, conducted from August 6th through the 14th, included 1,300 people across the country.  It was based on an electoral scenario with a high turnout of 14.5 million voters or 77 percent of the Electoral Register.
These results coincide with others presented by most pollsters, which give the incumbent Venezuelan president an advantage of at least 15 percentage points ahead of his rival in the October 7th general elections.  (Taken from RHC)