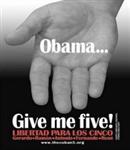 The International Solidarity Committee to Free the Cuban Five confirmed on Tuesday the setting in motion of a new campaign based on sending postcards and posters to U.S. President Barack Obama demanding the liberation of the five antiterrorists. With the support of the Canadian Union of Postal Workers and the French Press Workers' Union we will have 50,000 postcards in English and Spanish, the solidarity group noted in a communique.The campaign is dubbed Obama…Give me Five! The main designer of the logo was Jorge Martell, an experienced Cuban graphic and plastic artist.
The Venezuelan International Institute of Political Studies Five Heroes will guarantee the edition of 10,000 posters, according to the organizers of the campaign.
While the possibilities for legal recourse for the Cuban Five are running out without obtaining justice, the denunciation and solidarity campaign grows all over the world and is now more necessary than ever, underlined the International Committee supporting René González, Gerardo Hernández, Antonio Guerrero, Ramón Labañino and Fernando González.
Last Thursday, this organization corroborated that Antonio Guerrero, one of the Cuban Five, was moved to Marianna Prison in Florida.
Wole Soyinka, Nadine Gordimer, Desmond Tutu, Rigoberta Menchú, Adolfo Pérez Esquivel, José Saramago, Harold Pinter, Zhores Alfiorov, and Günter Grass are some of the Nobel Prize winners supporting the cause of the Five. (Taken from PL).