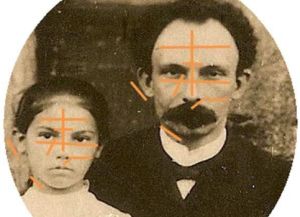 This statement was made by María Mantilla in a letter, at the age of 78. Half a century after her death, the dilemma of whether the Apostle was her biological father or not, is still considered as just speculations, and seeks for support in scientific theories.
Just as if he were dealing with any of the many paternity cases he has elucidated for decades, and not with the most controversial issue in the sentimental life of Jose Martí, Legal Medicine Second Degree Specialist Dr. Ercilio Vento Canosa holds that: "I'm sure that Maria Mantilla was Martí's biological daughter".
This possibility has been a concern for several generations of Cubans. Nevertheless, Dr. Vento Canosa, who is also an anthropologist and the historian of the Cuban city of Matanzas, sticks to the results of his study, the only one which has so far intended to unveil this sort of enigma.
After being published in the personal web blog of Jorge Ángel Hernández Pérez (writer, Villa Clara), and then reproduced by Cubadebate, the conclusions of the Cuban expert brought back the topic 50 years after the death of Maria Mantilla, the girl who was baptized by the Apostle in January, 1881.