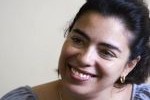 Adriana Perez, wife of Cuban antiterrorist fighter Gerardo Hernandez, arrived in Bolivia this Wednesday for a five-day visit that includes a tribute to Argentine-Cuban guerrilla leader Ernesto Che Guevara.Perez arrived in La Paz from Lima and hours later will give interviews to several media outlets and participate in the central celebration in solidarity with the Five, as the Cuban Five Gerardo Hernandez, Ramón Labañino, Rene Gonzalez, Antonio Guerrero and Fernando Gonzalez are known, who has been imprisoned for 14 years in the United States.
The Five were arrested in 1998 and received harsh sentences to double life on a rigged political trial in Miami, in violation of U.S. law and international law, becaused they were monitoring and warning on the Cuban terrorist network plans funded by the United States and settled freely in Florida.
Adriana Perez will participate Thursday in a forum on the Five, organized by the Movement of Solidarity with Cuba and the Communist Party of Bolivia, in the Faculty of Law of the Universidad Mayor de San Andras, where a Bolivian Solidarity Committee will be founded.
On the same date she will participate in an activity at the seat of the Legislative Assembly, which will be attended by senators and deputies, and then she will meet with representatives of the Cuban medical and educational brigades, which are supporting the Bolivian people.
On Friday 24, Perez will meet with intellectuals and media managers at the headquarters of the Vice President Office of the Plurinational State.
Then she will travel to La Higuera, where she will celebrate in his name and that of her husband to the Argentine-Cuban guerrilla Ernesto Che Guevara, killed in La Higuera, in October 1967.
Gerardo Hernandez was sentenced in 2001 to two life sentences plus 15 years in prison and is still in prison, as well as three of his comrade Ramon Labañino, Antonio Guerrero and Fernando Gonzalez, despite strong international pressure for the U.S. government to releases them.
Another antiterrorist fighter Rene Gonzalez, is already out of prison, but should still remain in the United States to fulfill his supervised release.  (Taken from PL)