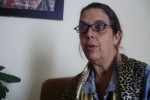 Controversial and so-far ignored facts on Winston Leonard Spencer Churchill's stay in central Cuba during the 1895 war, were explained by Lourdes Maria Mendez Vargas during a lecture delivered at Sancti Spiritus's Jose Marti Cultural Society.
By Pastor Guzmán Castro
According to the International Relations graduate, by the end of November 1895, the then future First Lord of the British Admiralty and Prime Minister of England, came via Santa Clara-Cienfuegos-Tunas de Zaza-Sancti Spiritus and spent here the night of November 24 or 25.
But Churchill didn't traveled alone -she added. He came accompanied with his young fellow Reginald Barnes when they were both soldiers to the famous IV Regiment of Hussars of his British Majesty's Army.
It has been confirmed that both hussars had been appointed by Spanish Field Marshal Arsenio Martinez Campos to the reinforced column of Colonel Suarez Valdes. They were supposed to join the column upon its arrival in Sancti Spiritus.
Based on what Churchill himself wrote in the Cuba chapter of his book Mi primera juventud (My first youth), Méndez described the journey of the 4 000 men column until its arrival in Arroyo Blanco, on November 29th, 1895.
When explaining about her major motivations for the research, she mentioned an ECURED piece of text according to which, Churchill had once lunched in Arroyo Blanco with the General in Chief of the Cuban Liberation Army Maximo Gómez.
If it had been the case -she said- the war would had been concluded on that very same day, since the location was, as Churchill said, a Spanish "fortified village".
Churchill and Barnes spent the night of November 29 in Arroyo Blanco. The next day, the future Literature Nobel Prize winner became 21 and heard the first shots of war when the column was harassed by the Cuban forces.
For the Sancti Spiritus born amateur historian, a very particular fact was the presence of Churchill, from November 30 to December 2, in the same territory where nearly 4 500 "mambi" soldiers -commanded by Maximo Gomez, Antonio Maceo and Serafin Sanchez- gathered in La Reforma, when  organizing the invasion to the west of the island.
"If Spanish General Suárez Valdés wouldn't had been so 'cautious' when he had the Cubans within his reach, and if the purpose of the mambi soldiers would had been to face the colonial troops, Churchill might had probably died there and the history of England and Europe would had been different", she concluded.
(Translated by Escambray).