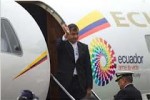 The visit, over the past few hours, by Ecuador's Rafael Correa to Venezuela's Hugo Chavez in Havana made headlines in the Ecuadorian media. Chavez is in high spirit, Correa said.
Front-page headlines on The El Telegrafo daily newspaper read "Rafael Correa traveled to Cuba to meet the Bolivarian leader," "Hugo Chavez faces one of the hardest tests in his life," "Correa saw Chavez in high spirit."
The newspaper says that the Ecuadorian head of state also met with President Raul Castro and with Revolution leader Fidel Castro, whom who he acknowledged for managing such a huge information.
"We are now returning from Havana. We visited Chavez and met with Raul and with Fidel Castro. Chavez in high spirit gives us strength," Correa wrote on his Twitter account.
"We all know President Chavez; he is always willing to wage the toughest battles. We came to encourage him because he has encouraged all of us with is fighting spirit and positive mind. So, we hope everything is going to be fine," President Correa wrote before arriving in the capital Quito, Pl news agency reported.
Andes news agency said that "All Latin America supports Hugo Chavez in the hours previous to his surgery," and cites some of the messages of solidarity sent to Chavez by several Latin American leaders.
On one of its paragraphs the agency news wire says that Argentina's Cristina Fernandez asked God for Chavez's health and said: "Here we, Argentineans, are wishing you fast health improvement."
Bolivia's Evo Morales said he felt deeply sad due to the detection  of cancerous cells in a medical examination undergone by Chavez. And Colombia's Juan Manuel Santos also sent greetings on Twitter to Chavez. Similar messages were sent by Chile's Sebastian Pinera, who wished the Bolivarian leader fast recovery.
The Ecuadorian media said that thousands of people flocked to the Bolivar Plaza in Caracas, and to avenues and parks in the capital city to pray for the health of the Bolivarian leader.