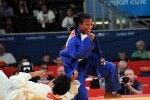 Yudo expert Yanet Bermoy made the most relevant performance for Cuba on Sunday at London's Olympics, which gave the island its first medal. Bermoy got the silver after losing the gold in a fight against North Korean An Kum AE in the 52-kilo final. The bronze in that category was garnered by Italian Rosalba Foncinini and French Priscila Neto. With Bermoy's silver, Cuba has taken 23 medals in Olympic Judo through the years.
Cuba rowers in the light double category could not make it in the direct classifying stage for the semifinals, so they will come back to the water next Tuesday.  The team made up of Yaima Velazquez and Yoslaine Dominguez finished in the fourth position, while in the men's category Manuel Suarez and Yunior Aguilera came in third.
During preliminary swimming competitions on Sunday, Cuban Pedro Medel took the third position at the second eliminatory heat and lost his ticket for the semifinals.
Cyclist Yurmari Gonzalez finished in the 46 position during the toured won by Dutch Marianne Vos.
As to weight lifting,  Yasmany Romero made the best performance to finish in the 11 position at the 56 kilo category, with 258 points, very far from Olympic champ Yun Chol Om from North Korea.
Cuban boxers are scheduled to begin on the ring on Monday, a major expectation for the Cuban audience, currently following the games on 24-hour TV live broadcast. (Taken from ACN)