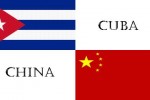 Ricardo Alarcon, president of the People's Power National Assembly (Cuban Parliament) met in Havana with the member of the Permanent Committee of China's 11th People's National Assembly, Fang Fengyou, who is also the vice-president of the Agriculture and Rural Affairs of the Chinese legislative body.
Fang Fengyou is on an official visit to Cuba on the invitation of the Cuban Parliament.
During their meeting, Fengyou and Alarcon addressed bilateral relations between the two legislative bodies and corroborated the excellent friendly and cooperation links between China and Cuba.
According to Granma newspaper, the distinguished visitor and his delegation will meet with Cuban officials and tour centers of economic and social interest.
The meeting was attended by the president of the Cuba-China Friendship Group at the Cuban Parliament, Caridad Diego and other lawmakers, as well as by Chinese ambassador to Havana Zahng Tuo.