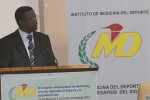 The Sixth International Congress of Medicine and Sciences applied to Sports begins in Havana to discuss issues such as physical activity and diseases prevention.
Under the slogan "Sports Medicine Facing the Challenges of the XXI Century" specialists from around 20 countries will exchange experiences and they will strengthen ties of scientific partnerships.
Symposia, workshops and round tables are the spaces to discuss issues such as biomedical control of the preparation in strength sports and muscle power in top-class athletes, as well as equine therapy, physical activity and sports.
Physical activity in prevention and treatment of cardiovascular disease and diabetes is one of the lectures that will be given until June 1 at the congress.
Other topics to be discussed are the advances in regenerative therapy and its application in sportspeople and sports as an essential tool in the social integration of disabled people.  (Taken from PL)