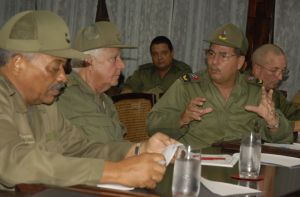 Measures have been already adopted in Sancti Spiritus due to the impending arrival of tropical storm Isaac to the island this Saturday, and its possible impact on this central Cuban territory.
As soon as the information phase was declared this Friday, the Provincial Defense Council held a working meeting presided over by Army Corps General Joaquín Quinta Solá, vice-minister of the Revolutionary Armed Forces (FAR, in Spanish); Major General Raúl Rodríguez Lobaina, head of the Central Army; and Jose Ramon Monteagudo Ruiz, first secretary of the Party in the territory.
The body instructed to implement the measures already planned for type of event, which emphasize on the organization and the appropriate evaluation of possible impacts in the territory.
Taking into consideration that Sancti Spiritus is placed within the possible future route of the tropical storm, the Defense Council ordered the return of vacationists from camping facilities, and from La Boca beach's villas. Instructions were also given on the protection of the over 1 200 foreign tourists who are currently accommodated in Trinidad.
Local water reservoirs are under strict surveillance, since rains are the key feature of the tropical storm.
Jose Ramon Monteagudo called to keep communication channels active, to implement the corresponding measures in possible flooding locations, and to be disciplined in the fulfilment of every step and instruction to protect human lives and economic resources.