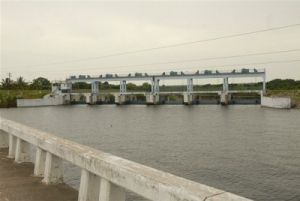 If we were to determine a region in Cuba to illustrate both, the magnitude and infrastructure of the hydraulic works undertaken by the Revolution since the creation of the National Institute of Water Resources (INRH, in Spanish), we will definitely have to refer to Sancti Spiritus.
Already noticed by Fidel Castro in the Moncada Program, hydraulic projects found in this central Cuban territory a rich hydrographical network, which led to the development of the branch.
In 1959, there were no water collection possibilities in this region, and five decades afterwards, it is the island's largest in this respect, with nearly 1 300 000 000m³.
The Aridanes dam was constructed here in 1968, the second one to be built in the former province of Las Villas. From that moment, and up to 1973, the Siguaney, Lebrije, and Zaza reservoirs were built. Likewise, the pumping station of Mapos, aimed at the irrigation of rice plantations, is considered the first ambitious work carried out in this region.
The Higuanojo, Tuinucu, Banao II, Felicidad, and Dignorah reservoirs came next. The territory also features nearly 60-kilometers of canals, with their delivery systems, protection facilities and some 150 pumping stations which serve as aqueducts.
Despite the unquestionable development of the infrastructure, water availability and its impact on the rice, cattle, sugar cane, fish, and energy programs, Sancti Spiritus is reported as one of the Cuban territories with lowest index of irrigation systems.
According to the IHRH's sub-delegate in the territory, there are huge challenges ahead concerning the water supply to the population, and the improvement of the systems, especially in Trinidad.