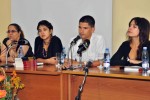 The General Secretary of the Communist Youths of Chile (JJCC), Karol Cariola, and Camila Vallejo, a member of its Executive Committee, thanked Cuba on Tuesday for being an example of resistance and a bastion of hope for the world.
Speaking to reporters at the end of the first day of a visit to the Caribbean nation on the occasion of the 50th anniversary of Cuba's Young Communist League (UJC), the leaders of the JJCC —known as 'La Jota'— expressed their admiration at "a Revolution that is constantly perfecting itself and that offers its citizens basic guarantee s, of which the Chilean people have been deprived."
"In spite of the U.S. economic blockade, Cuba firmly advances in the construction of a socialist society as an example of resistance in front of the powerful, while Chile remains a mainstay of Neoliberalism and the resulting exclusion, inequality and oppression," Karol said.
The leader asked for the solidarity of Cuba and its youth in the construction of a new and better Chile, but she added that the best help they can get in this respect is that Cuba maintains its Revolution alive, preserving it and taking it forward.
"Being a communist youth today makes more sense than ever because we can change the world," she pointed out.
For her part, Camila Vallejo congratulated the new generations of Cubans for the 50th anniversary of the UJC and also for the 51st of the Jose Marti Pioneer Organization, and urged them to continue defending the Revolution, "which is the hope of many youths in Chile, Latin America, and the world."
"The Cuban youths should look at the world and be thankful for what they have," Camila noted.
In this regard, she recalled that, in her country, the youths have been deprived of many things, including their rights, and "they have been reduced to simple machines that reproduce a model which focuses on the capital and the market, instead of the human being."
Camila said Cuban youths have the privilege to be active subjects in the transformation and construction of a new society "and they should be proud of and appreciate what they have, but above all, they should make their own contribution and not just be satisfied with what their predecessors achieved." (Taken from ACN)