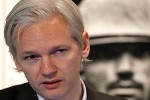 The executive secretary of the Bolivarian Alliance for the Peoples of Our Americas (ALBA), Rodolfo Sanz, said today the organization may propose to the UN and the OAS discuss political asylum.
"We will sure approach within the ALBA the validity of asylum and the developed countries' stand concerning international rights," Sanz told Prensa Latina in this capital.
The statements come few hours ahead of the extraordinary Summit of Foreign Ministers of the ALBA, at the request of Ecuador to adopt a common stand to the British threats to invade the Ecuadorian Embassy in London to arrest Julian Assange and its refusal to allow him to exit Britain.
Sanz expect majority support to Ecuador and to the founder of Wikileaks and his sovereign right to benefit with the prerogatives of political asylum granted to who they wish to with the observance of their national Laws and international treaties.
He said the UK should accept Ecuador's decision and withdraw its refusal to allow Assange leave the Ecuadorian Embassy in London where he remains from June 19th.
He argued that the status of asylum stem from a government's rights to exert its sovereign rights, therefore, the British authorities should accept the request. The ALBA Executive said that the UK plans to ingress the Ecuadorian Embassy to arrest the Australian Journalist, that state violates the Vienna Convention of 1961 on diplomatic relations and others on the matter.
He said that the British authorities should evaluate first other aftermath in terms of international rights before enforcing its own Laws overriding international convenants on the affair.
"We should respect the rights of Ecuador because, (denying the asylum) becomes in practice an obstruction and refusal of the political asylum, because it is the way a state channels its decision," stressed him.
Sanz noted that the foreign ministers of the countries members of the ALBA confirmed their attendance to the forum Saturday at 18:00, local time, at the seat of the Government in Guayaquil, capital of Guayas, Ecuador.
He also stressed they will be meeting Sunday with similar purpose, but with the Foreign Ministers from the countries of UNASUR from whom Ecuador also demands full support.
Both extraordinary sessions will he held at the request of Foreign Affair Minister Ricardo Patiño to find support and a strong regional response to Britain's stand on Assange Case.
Thursday, Patiño submitted on behalf of his government 11 reasons that justify acceptance of their request of political asylum for the Australian journalist.
Ecuador thinks there is evidence of political persecution of that citizen and evaluated the circumstance and the dangers for his life if he is extradited to Sweeden, just like his eventual extradition to the United States to stand trial for espionage.
(Taken from PL)