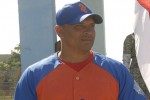 The Cuban sports industry prints incorrectly the double S (SS) identifying the baseball players in the province of Sancti Spiritus.
Sancti Spiritus fans were shocked by the error on the baseball caps of Roosters, recently unmasked on Wednesday night by Cuban television narrators who followed up the subseries played in the Cinco de Septiembre Stadium in Cienfuegos province.
When commentator Rodolfo Garcia was curious on the way in which the double S (SS) identifying the Cuban central province of Sancti Spiritus have been placed on the peaks, journalist Randy Vasconcelos, who played in the third voice in the transmission, confirmed: "You're absolutely right, it's a misprint".
Although the errata of the sports industry, which fortunately only happened in the making of the caps of the players, has not been discussed yet by any official in the sector, Roosters' fans hope that those responsible for the blunder proceed immediately to its amendment.
The typo in Sancti Spiritus' caps, however, have not prevent the team from beating twice Cienfuegos Elephants (5×1 on Tuesday, and 9×1 on Wednesday), and even some fans prefer to carry on with the misprint that could be interpreted as the angel for good luck
This is not the first outrage to the home devotees with their team's uniform: the controversy several years ago by the similarity of the orange uniforms with neighboring Villa Clara came to the media, which was followed by an unusual blue color (typical of Industriales, anthological rival) that was interpreted in Sancti Spiritus as an offense, not to mention that for fans still remains unexplained that the emblem of the baseball squad is the bridge over the Yayabo river and not a rooster.