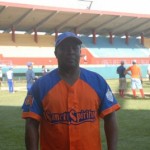 Ruperto Zamora Clavo, manager of Sancti Spiritus baseball team, is about to test his game philosophy when the 51st National Championship begins for Roosters on Tuesday night. Their rivals: the current champions of Cuban baseball.
"We need to learn how to produce runs", sentenced Zamora when assuming the leadership of a team carrying enormous debts with its fans. Almost 40 training games allowed the manager to rehearse a style yet to be proven on the more difficult scenario: the 51st Cuban Baseball National Season".
"We will change our image". That's the base of his theory which involves tactical plays, cohesion and combativeness. However, when it comes to predicting, he weighs every word and avoids risks…

Why so many games?
"We thought of an atypical training in accordance with modern demands, which allowed that everyone could play, train and face different hurlers". Thanks to the support we received we were able to travel and bring some teams to play with us".
What was the base of your training?
"We based ourselves in tactical moves, putting speed in function of the offense. We have heavy hitters, but some of them are also very rapid, so we tried to let them know, not to wait for the big shot, but also to produce runs through different ways in close games".
To what extent a team used to play with big shots took in that style? Do you think it might actually work?
"We applied the principle of participative democracy. Athletes and trainers were surveyed, and everyone agreed on the style. We are all aware of our needs, though we know it might take some time to sink all this in. We have talked to Yuliesky, Cepeda and Eriel and they already know they might sacrifice some appearances for the sake of the team's needs".
What are your pillars?
"Discipline, cohesion, functionalism, and communication".
Are you ready for your style to work properly?
"We are prepared for everything that might come. Players are aware of the importance of placing actions for the team above individual needs. It's not easy. We are talking about changing their minds, about transforming their game conception. Every manager has his own style. This is mine. This is my philosophy.
Predictions?
"I don't like to make predictions, we have prepared to change our image…
But changing your image should bring results and fans demand the title.
Are you afraid of predicting?
"We have told our players to get on the field and have fun, to enjoy the game. When I refer to changing our image, I mean it for people to witness a different mood on the team. We have to go for each victory, step by step. We don't want to despair fans. We ask them not to give up on us because we need their support".
"As we wear Sancti Spiritus uniforms, we are taking on a great responsibility. Athletes have sunk that in. It's not a secret this team should classify, and deep within us, we have predicted: from the very beginning, Roosters must fight for the championship".