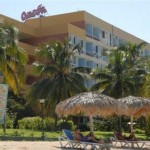 As if hanging from a sort of appendix that pretends to be separated from the island's map, the Ancon peninsula is both a valuable coastal ecosystem and the major tourism site in the central Cuban province of Sancti Spiritus. The best beaches of the Cuban southern coast are said to be found here.
Located next to the colonial ancient city of Trinidad, the nature-tourism marriage might seem impossible here, where the "solid ground" concept equals the size of a football field. Nevertheless, according to several experts, the best beaches of the Cuban southern coast are found in this peninsula –that lays between the Caribbean sea and Casilda bay.
It is an attractive area for the development of the tourism industry. It has several hotels, marina, a diving center and a growing infrastructure that supports thousand visitors every day during the so-called high season months. This fact turns into a real challEnge when we are to get a balance in the ecosystem.
When inquiring on the subject, Escambray was told about the several institutions with responsibilities in the area. Sources from the Institute of Physical Planning's local offices highlighted the implementation of a plan that has greatly helped to reduce illegalities in the area.
They also referred to how the development of the tourism infrastructure has been planned and to some of the violations so far reported.
A recent diagnosis carried out by Varadero's Beach Study Center and Sancti Spiritus's Environmental Services Unit identified problems in the peninsula like excessive compression and erosion. Thus, the planting of a certain wild plant was recommended which works as a natural barrier to avoid sand flight.
Likewise, CITMA experts are already working on the implementation of a catalogue guide aimed at the reforestation of the peninsula.