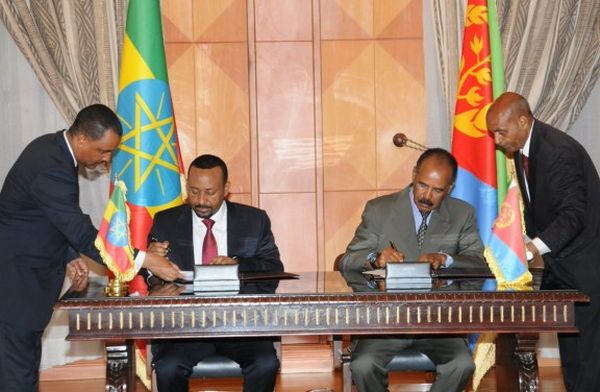 Both countries have agreed to reopen embassies and ports and to allow flight operations to strengthen diplomatic ties between them
Ethiopia and Eritrea are putting an end to their volatile relationship, which has affected both countries since 2000, when an uneasy peace deal ended a two-year border war. "A new era of peace and friendship has been ushered [in]", Yemane Gebre Meskel, Eritrea's Information Minister, said on Twitter.
At an unprecedented summit between the leaders of the two countries in Eritrea's capital, Asmara, Ethiopia's Prime Minister Abiy Ahmed announced that his country and Eritrea have agreed to reopen embassies and ports and to allow flight operations to strengthen diplomatic ties between them. This was said in a statement by Eritrea's Information Minister, Yemane Gebre Meskel, after the two leaders signed an agreement to end the war between their countries.
Yemane Meskel tweeted that the "state of war that existed between the two countries has come to an end… A new era of peace and friendship has been ushered in. Both countries will work to promote close cooperation in political, economic, social, cultural and security areas."
Prime Minister Abiy, the first Ethiopian leader to set foot in Eritrea in two decades, has followed through on an announcement in June by Ethiopia's ruling party that it planned to fully implement the peace deal reached with Eritrea in 2000. Known as the Algiers Agreement, it includes a key ruling on borders, dating from 2003, which Ethiopia originally rejected, according to CNN.
At his swearing in ceremony when Abiy took office, he appealed to the Eritrean government to solve "years of misunderstanding."
What this means
The two countries have had such a volatile relationship in the past almost 20 years that it was impossible to travel directly from one nation to the other. There were no flights, the land border was closed and telephone lines did not work. The latest development means that families that had been separated by the border conflict of 1998-2000 can finally make contact and reunite.
Ethiopia, which became landlocked when Eritrea became independent in 1993, will once again have access to Eritrea's ports on the Red Sea. Eritreans, on the other hand, can rest somewhat easier given that, until the present, Eritrea has maintained national conscription, which could last indefinitely, in anticipation of war. This has led to the mass migration of its citizens who opted instead for asylum elsewhere.
However, the cause of the conflict to begin with – and the continued source of contention – is the ownership of the town of Badme. A border commission set up under the peace agreement of 2000 ruled that the town was part of Eritrea. This was rejected by Ethiopia and is the reason that normal relations were never resumed.
It is still a sore point, as is demonstrated by the protests that erupted near the border in Ethiopia when Prime Minister Abiy first hinted that Badme could become part of Eritrea as part of his diplomatic concessions.
Reactions
Kenya's President Uhuru Kenyatta congratulated the two leaders on Twitter, stating, "We are together with you."
Also on Twitter, Rwandan President Paul Kagame, the current chairperson of the African Union, praised their courage, saying that the principals were "doing the right thing for their people".
United Nations' secretary general António Guterres, who is on a visit to Ethiopia's capital, Addis Ababa, said the recent developments showed that a new wind of hope was blowing across Africa.
Even the Pope, in his Angelus prayer, described the new initiative as a "light of hope for these two countries of the Horn of Africa and for the entire African continent", according to the official Vatican News.
"In the midst of many conflicts," the Pontiff said, "I would like to highlight an initiative that can be described as historic and that is good news: In these days, after 20 years, the governments of Ethiopia and Eritrea are talking of peace."
Taken from https://allafrica.com