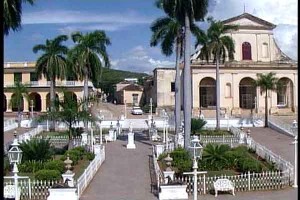 Trinidad, Cultural Patrimony of Mankind located in this Cuban central province, is recognized as the biggest natural museum in the Caribbean, said Norberto Carpio, director of the Preservation Office.
Carpio told Prensa Latina Trinidad is reaching 500 years of its foundation by the Spanish colonizers in January 2014, and treasures the distinctive hallmark of the 17th, 18th and 19th Centuries, featured by the great desire of fortune by Spanish and Cuban settlers.
The historical center of Trinidad still preserves the riches of the Cuban colonial architecture, with the harmony of different styles.
"We have artistic balconies, balusters, complex works on railing, walls with magnificent decorates and romantic yards, among other things," he stated.
An example of local affluence are the residences of the Sánchez Iznaga family, current Trinitarian Architecture Museum and the Cantero Palace, a jewel of the customs of the Creole aristocracy. The Brunet Palace, now the Romantic Museum, is now representative of the era of more splendour in 1850.
In the Valle de los Ingenios (Valley of Sugar Cane Mills), a place with 106.9 miles of extension, 80 archaeologic sites have been located, representing what was -at times of the Spanish colonization- the blossoming Cuban sugar industry.
In the 19th century the Valley had 44 sugar mills in production, making the area the third largest in the country.
This place has an attractive natural heritage, with high landscape values, endemic fauna, abundant landforms such as mountain ranges, the sea and the presence of three rivers, including the mighty Agabama River.