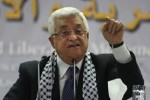 A speech by Palestinian National Authority (PNA) President Mahmoud Abbas at the UN General Assembly's plenary session focus today expectations of the third day of the presidential debate.
The Palestinian leader will speak today to the heads of State and Government at the United Nations headquarters, and will announce the PNA decision to shortly request for an observer status category.In diplomatic circles, he said that aspiration has support of over 150 of 193 UN member countries.
Meanwhile, Palestinian sources stated that the vote will be postponed for November 29, when the UN marks the International Day of Solidarity with the Palestinian People.
Abbas asked a year ago the PNA entry as a full member of the UN, a claim that was not discussed by the Security Council "due to lack of consensus among its members," according to a committee that examined the issue.
This body is comprised of 15 members, five of them for life and veto privilege: the United States, France, Great Britain, Russia and China.