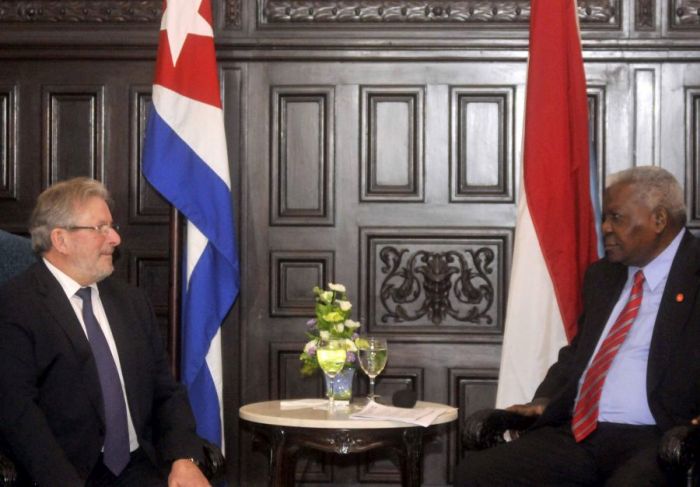 Cuba's Parliament President Esteban Lazo welcomed on Monday in Havana his counterpart from Luxemburg, Mars di Bartolomeo with the objective of strengthening friendship and cooperation ties between both countries.
Esteban Lazo, highlighted at the Capitol building in Havana, that this is the first time that Di Bartolomeo visits the Caribbean island and constitutes a pleasure to have his presence in the country.
Luxemburg and Cuba are two small States, but we have many things in common: vocation for freedom and sovereignty of our nations, said the President of the Cuban National Assembly.
Relations between the two countries has lasted 70 years, and "we give it vital importance, that is why we expect major exchanges allowing us to know ourselves better", he said.
Lazo thanked the people and government of Luxemburg for their support in the battle against the criminal US blockade, which damages the Cuban people and places obstacles in its economic development.
Referring to the common positions between Luxemburg and Cuba, Di Bartolomeo expressed that "we do not want to build walls, but bridges between nations and that is why we prioritize the political dialog, economic relations and cooperation."
Other issues during the meetings were the relations between Cuba and the European Union, aspects of democracy in both States and the setback of diplomatic ties between Havana and Washington after Donald Trump took over the White House.
As part of his official visit, Di Bartolomeo toured several centers, among them the Mariel Special Development Zone.