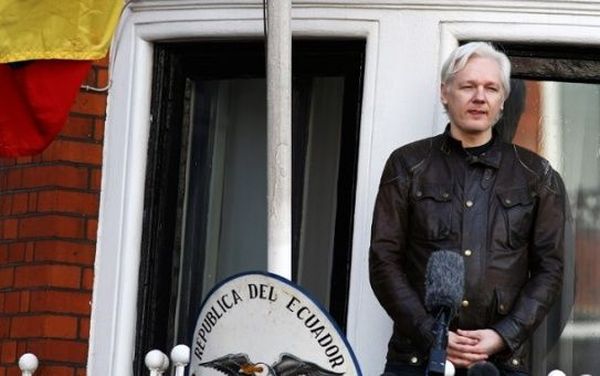 Speaking in an interview Ecuador President Lenin Moreno said that Julian Assange's actions were a cause of concern for the government
Ecuador's President Lenin Moreno says his country will respect Julian Assange's right to asylum but only if the Wikileaks founder "respects the conditions" his government has put in place for him to continue his stay at their London Embassy.
Speaking in an interview with German Broadcaster Deutsche Welle, Moreno said Assange's actions were a cause of concern for the government of the South American country, but his asylum was not under immediate threat if he complied.
"Let's not forget the conditions of his asylum prevent him from speaking about politics or intervening in the politics of other countries. That's why we cut his communication," Moreno explained, adding that his government would "take a decision" if Assange didn't comply with the restrictions placed on him.
"There are two types of liberty. The responsible liberty and the cave liberty in which everyone thinks they can do whatever they want, whenever they want and however they want. That's not liberty. Liberty must be used with a lot of responsibility," Moreno explained without confirming whether or not Assange's right to external communication would be re-established amid an international campaign to "reconnect" him.
Moreno also denied external pressure on him or his government played a role in his country's treatment of Assange, who has had his right to communicate with the outside world barred since March. He explained that he delegated all decisions relating to Assange's case on Maria Fernanda Espinosa, who currently serves as the country's foreign minister and previously served as defense minister during Rafael Correa's presidency, stating that it was her idea to grant Assange Ecuadorean citizenship.
"I told the Foreign Minister she should, with complete freedom, choose how to solve the problem. And she chose that system. It wasn't the most appropriate, but I respected it," he said.
Moreno also commented on the recent crisis at Ecuador's border with Colombia during the interview, stating his belief that that the situation, which ultimately led to the death of three journalists and the kidnapping of Katty Velasco and Oscar Villacis, an Ecuadorian couple, was handled as best as it could have been.