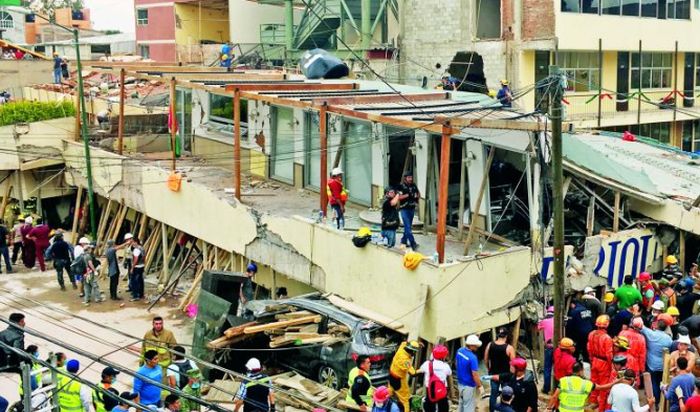 A 7.1-magnitude earthquake has hit central Mexico, killing at least 225 people and toppling dozens of buildings, officials said
In Mexico City, there are 94 people reported dead, 71 in Morelos south of Mexico City, 43 in Puebla where the epicenter of the quake struck, as well as 12 in the state of Mexico, 4 in Guerrero and 1 in Oaxaca, according to Luis Felipe Puente, Coordinator of Civil Protection of the Interior Ministry.
Mexico City Mayor Miguel Angel Mancera said 44 buildings were severely damaged or destroyed. Several major gas leaks and fires have also occurred. In the state of Puebla, the governor told Aristegui Noticias, many were killed in a collapsed church.
Mexican President Peña Nieto gave his first televised address following the quake, in which he delivered a call for unity, and detailed the government's ongoing rescue efforts.
The priority, he said, "is to continue with the rescue of those who are trapped and to bring medical attention to the injured."
He continued to say that approximately 40 percent of the residents of Mexico City do not have electricity, and at least 60 percent in Morelos don't have it either.
Nieto said that he had called for a National Emergency Committee to evaluate the situation, adding that 22 people have died at a school which collapsed and 30 children and eight adults are still unaccounted for.
The country's public education secretary, Aurelio Nuño, confirmed four deaths and 40 injuries at the Tecnológico de Monterrey university.
According to the National Seismological Service, the 7.1-magnitude earthquake hit 5 miles southeast of Atencingo in the central state of Puebla at a depth of 32 miles.
"We have detected damage to 20 or more buildings … we have reports of people trapped. We can't rule out the loss of life," Miguel Angel Mancera, mayor of Mexico City, told ForoTV.
Power was cut to 3.8 million customers, the national electricity company CFE said. Officials warn the lack of power could complicate rescue efforts.
Residents have been warned to turn off the gas, avoid using lighters and switch off the power. Shelters have been offered to house people who have lost their homes. Social organizations are asking for food donations to help those stranded by the quake.
"It is important for people not to return home to pick up their things because there could be more aftershocks," Mancera said.
Secretary of the Interior Miguel Angel Osorio Chong has advised people to leave buildings located in the areas hardest hit by the earthquake.
Free public transport has been offered to help people unite with their families and reach safe areas. Google has activated a service to help people locate one another and to identify the zones worst hit by the earthquake.
Highways have been closed due to the severe damage. The airport of Mexico City resumed operations after briefly suspending all activities to assess damages to infrastructure.
The earthquake also caused panic in hospitals in the capital. Patients are being evacuated from the hospitals affected by the quake. Private and public hospitals are offering free emergency medical attention.
School and university classes have been canceled in Puebla, Mexico City, Guerrero and Veracruz. The Mexican football league has suspended upcoming matches. Cultural events have also been canceled across the city.
People across Mexico have come together to help in the aftermath. There are reports of people arriving on motorbikes and bicycles to help with the rescue efforts. Messages of solidarity have also flooded social media.
Patricia Leal in Mexico City told Aristegui Noticias that people were opening their homes to strangers, offering one another access to Wi-Fi networks and loaning their cell phones so that people could communicate with their loved ones.
The Venezuelan president, Nicolas Maduro, said: "Mexico can depend on Venezuela in this moment of difficulties and tragedies … this is what solidarity is for, this is why we must be united."
Lenin Moreno, the president of Ecuador, said in a message on Twitter: "All our solidarity with the Mexican people and the president."
After being criticized for not offering support to Mexico after the earlier 8.1-earthquake, U.S. President Donald Trump said on Twitter: "God bless the people of Mexico City. We are with you and will be there for you." The city and its surrounding area are home to about 20 million people.
The quake hit only hours after many people participated in earthquake drills on the anniversary of the devastating quake that killed thousands in Mexico City in 1985.
The disaster comes just days after an 8.1-magnitude earthquake left 98 people dead and thousands more injured and displaced in the southwestern state of Oaxaca, and the anniversary of the 1985 earthquake in Mexico that killed thousands and hit Michoacan with an 8.1 magnitude.
Taken from https://www.telesurtv.net/english