Cuban Foreign Minister Bruno Rodriguez denounced at the General Assembly of the United Nations the full implementation of the US blockade, despite the steps taken in the bilateral approach.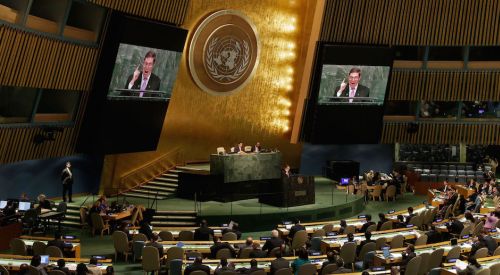 "We must not confuse reality with the wishes and expressions of goodwill (…). And the facts clearly show that the economic, commercial and financial blockade imposed against Cuba is full and in complete implementation", affirmed before the forum of the 193 UN members.
According to Rodriguez, since the announcement on December 17, about the decision of Havana and Washington to begin the process of rapprochement, no tangible or substantial modification has been made.
Speaking at the plenary of the Assembly convened to vote on a new draft resolution on lifting the blockade, the diplomat explained the current scenario.
Rodriguez talked about US President Barack Obama's recognition of the failure of the blockade, his request to Congress to end it and implement measures to mitigate the unilateral sanctions in force for more than half a century.
According to Rodriguez, though positive, the measures of the White House have only very partially modified some elements of the implementation of the blockade, categorically rejected here by the international community in the last 23 years.