The government reports at least 36 dead and over 900 injured following the quake.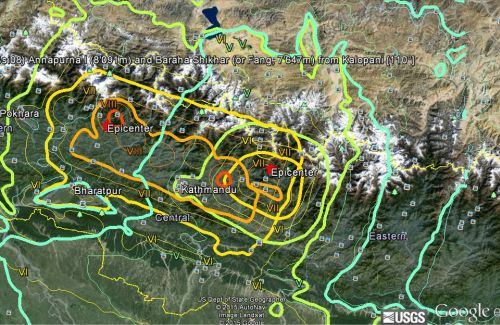 Nepal has been rocked by a series of at least eight earthquakes in a time period of no more than 70 minutes, causing more buildings to collpase in an already devastated country and killing at least 36 people and injuring over 900 more, according to government officials. In neighboring India, where the quake was also felt, five people have been reported dead.
The strongest earthquake was 7.4-magnitude forcing people to the streets fearing further damage and deaths. According to the U.S. Geological Survey (USGS), at least eight earquakes hit Nepal between 5.1 and 7.4 on the Richter Scale. -magnitude earthquake was felt as far as India.
The Norwegian Red Cross field hospital said it has received several dead, many injured, following the series of quakes.
"The shaking seemed to go on and on," Rose Foley, a UNICEF official based in Kathmandu, told AP. "It felt like being on a boat in rough seas."
Thousands poured into the already devastated streets of the capital Kathmandu and according to ITV, hundreds more could be seen fleeing toward the airport in a desperate attempt to leave the quake-stricken country.
According to local media damages were caused by the quakes, but due to the extensive damage caused by the April 25 quake, it would be difficult to assess how much more damage has been done.
Red Cross in Tatopani, Nepal reported serious landslides following the quake.The USGS reported that the earthquake was only 12 miles(19 km) deep and that it hit about 40 miles (68 km) west of Namche Bazar, Nepal.
​This new earthquake comes just a few weeks after a devastating 7.9-magnitude quake that left over 8,000 people dead, and almost 18,000 injured.
The natural disaster affected over 8 million Nepalese people in a country of 28 million in population.​ "This is a really big one," said Prakash Shilpakar, the owner of a shop in Kathmandu who was trying to call his parents in Bhaktapur, a town devastated in the April 25 quake.
The earthquake sent shockwaves that were felt across northern India and as far away as Delhi, where buildings swayed for more than a minute and people poured into the streets in panic.
In Kathmandu, the Nepalese capital, hundreds if not thousands rushed outdoors, while shopkeepers closed their stores, Reuters said.
The USGS said the quake's epicenter was close to Everest base camp, which was evacuated after an avalanche triggered by the April 25 quake killed 18 climbers, The Guardian added.