Puerto Rican singer, Olga Tañon, praised in Ciego de Avila the work carried out by the Cuban government in favor of art education, after visiting the "Ñola Sahig" Elementary School of Arts in Ciego de Avila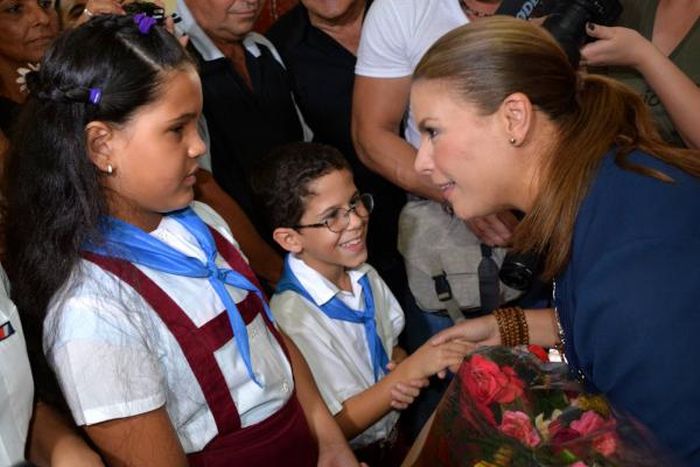 During her meeting with children and young students, she said, "Never give up, never say no to the possibilities, dream, but fight, love and forgive so you can see how things of life will be good."
She stressed the artistic talent of those students and the Cuban grace that grows in the school, and thanked them for the concert they offered to her, so she did not hold back and ended dancing merengue and singing with the future artists.
"The whole world is yours, and we are already getting old, but the day that one of you would be famous promise me that, at least, you will give me an autograph, because being sharing this unforgettable evening was a privilege for me" she told them.
Upon arrival in Ciego de Avila, about 430 kilometers from Havana, Tañon toured some cultural facilities, and received from local authorities the Illustrious Guest award, accompanied with the Key of the City.
The winner of five Latin Grammy awards will depart today from the Ciego de Avila province to continue traveling to Santiago de Cuba, where the first of two concerts dedicated to the family will be held on Saturday.