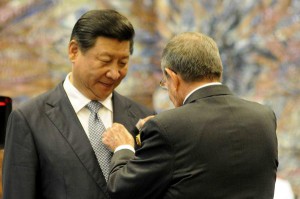 The President of the People's Republic of China Xi Jinping, paid a recent visit to Cuba, where he held official talks with Raul Castro.
The President of the People's Republic of China Xi Jinping, sent a message to Army General Raul Castro, president of the councils of State and Ministers, thanking him and the Cuban government and people, on behalf of his colleagues and of himself, for the warm welcome received and the exquisite arrangements made on the occasion of their visit.
During the visit, continues the document, I assessed, along with comrade
President Raul, successful experiences for the development of China-Cuba relations; we outlined the promising prospects of their future development; exchanged opinions on bilateral cooperation and bonds between China and Latin America and the Caribbean, and spoke about other topics of mutual interest.
We decided, by mutual agreement, to join efforts to begin a new stage of friendly cooperation for mutual benefit between China and Cuba. I very much appreciate the special arrangements made for my visit to the
island, adds the text, and I'm deeply moved by the fact that comrade
President Raul accompanied me personally during my visit to Santiago de
Cuba.
This reflects not only the high importance given by the comrade president to our bilateral bonds, but also the close fraternal friendship
uniting the two parties and the friendly cooperation of mutual benefit
between China and Cuba, which will give even more fruitful results.
I take advantage of the occasion to send cordial greetings and best wishes
to comrade Fidel, concludes the text.