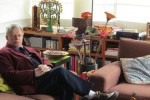 The legendary Cuban architect Mario Coyula, National Cultural Heritage Award, died at the age of 79, after a long struggle against cancer.
Close sources confirmed to Prensa Latina the death of who was an emblematic personality in architecture and urbanism in Cuba, author of famous projects such as the "Parque de los Mártires".
During his work as director of Architecture and Urbanism of Havana, Coyula promoted important urban revival works in areas of the capital, and exercised a solid teaching in young architects.
Last year he received the previously mentioned award, granted by the National Council of Cultural Heritage, which had been previously won only by Eusebio Leal, Historian of Havana.
He was characterized by his commitment to his city, urbanism and good taste, and in his latest years he was a critic of the prevailing aesthetic deformation in iconic neighborhoods like Vedado, where he was born.