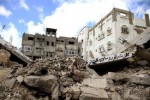 Destructions caused by Israel's attacks in Gaza Strip left direct losses estimated today between four and six billion USD, according to preliminary result by Palestinian sources.
Many countries will arrange to meet in Norway on September, to coordinate the necessary donations to begin the reconstruction process in Gaza Strip, the Palestinian Ministry of Economy stated.
Finances for the reconstruction of Gaza will respond to a report on damages compiled by the Palestinian government, a document that remains unfinished because it includes a detailed inventory of the material damages caused for almost one month of attacks.
Residential blocks, schools, universities, hospitals and other buildings of the local infrastructure show severe damages, other constructions among them hundreds of civilians' homes were reduced to dust and stone.
The only power generation plant of the area, bombed on July 29, was out of operations during the Israeli war conflict.