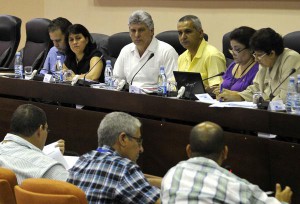 The Cuban Parliament is meeting today to discuss a broad agenda, prior to the third ordinary period of sessions of its Eighth Legislature, convened for Saturday, July 5.
More than 350 legislators, meeting in 10 permanent working committees of that legislative body, will examine topics related to their fields. Additional issues include actions to confront social indiscipline, illegal activities, and corruption, prior to the report to be presented by the Comptroller General of the Republic of Cuba regarding its performance.
According to the program scheduled for today and tomorrow, legislators will also receive information about the implementation of the agreements from the Sixth Congress of the Communist Party of Cuba, held in April 2011.
They will also be informed on the progress in separating the direction of administration councils and provincial assemblies in the Cuban provinces of Artemisa and Mayabeque.
Parliamentarians will reportedly review the report closing out the 2013 State Budget, and assess the progress of the Economy Plan in the first semester of the current year.
Each committee will assess the fulfilment of plans and formulate proposals for 2015, as part of the debate on internal functioning for the first half of the year.
Responses to statements and public complaints, among other issues, will be also reviewed.
This is the second parliamentary meeting of the current year. The first was held in a special session in March, to approve the Foreign Investment Law.