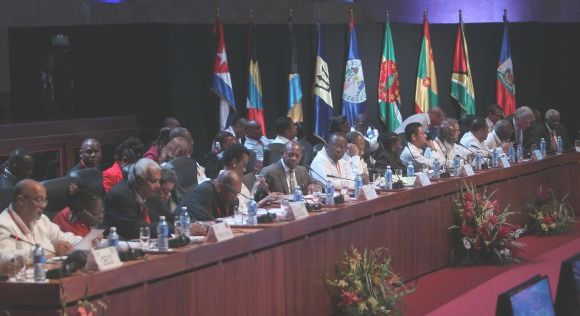 The 5th Caricom-Cuba Summit held in Havana on Monday concluded with a call on member nations to strengthen regional unity and integration with full support of the sovereignty of each nation.
In the Final Declaration of the forum, the 15 member states reaffirmed their determination to strengthen South-South cooperation to boost development.
CARICOM Members Adopt Declaration of Havana
Cuba Reaffirms Commitment towards Caribbean Nations
The document also recognized cooperation actions between Cuba and Caricom countries in the fields of health, human resources, construction, sports with tangible benefits for the people of the Caribbean.
The Caricom member states expressed their gratefulness to the Cuban government for its permanent support and for the education projects implemented in different countries of the region.
They also said that the update of the Cuban economic model, the new investment law and the Mariel special development zone offer additional opportunities to step up and strengthen economic relations between Caricom and Cuba.
The declaration demands the immediate lifting of the US economic, commercial and financial blockade of Cuba, the withdrawal of the island from the unilateral US blacklist of states sponsors of international terrorism and the end of US covert actions against Cuba.
The president of CARICOM, read the Final Declaration of the meeting, closed by Army General Raul Castro, President of the Cuban councils of State andMinisters.