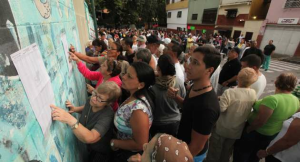 Over 18 million Venezuelans are supposed to exercise their right to vote this Sunday to elect the president who will rule in that South American country from 2013 to 2019.
Voting process is simple, fast, and totally automated,and Venezuelans are used to the procedure due to their  constant involvement in elections, said Agencia Venezolana de Noticias.
National Electoral Council (CNE) experts pointed out that the vote process has been designed in such a way that it takes no more than one minute and ten seconds to be performed.
The 13 810 polling stations were opened at 6:00AM, although people were waiting in line since several hours earlier. Voting places are scheduled to close at 6:00PM, but as long as there are citizens in line, they will not close.
Seven candidates are to be voted this Sunday, but only President in charge Nicolas Maduro, and opposition candidate Henrique Capriles Radonski will strongly compete with each other.
(Taken from Juventud Rebelde and translated by Escambray)