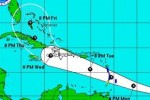 Tropical Storm Chantal formed in the tropical Atlantic Ocean late Sunday night and is reportedly racing west toward the Lesser Antilles.
The system developed as a strong tropical wave with tropical storm force winds before finally developing a closed circulation late Sunday night, thus bypassing the tropical depression phase and becoming Tropical Storm Chantal straightaway.
Tropical storm warnings have been issued for Barbados, Dominica, Saint Lucia, Martinique and Guadeloupe, while a tropical storm watch is in effect for Saint Vincent.  Additional islands in the Lesser Antilles may go under watches and warnings Monday as Chantal approaches.  Tropical storm conditions are expected in these areas by early Tuesday.
After crossing the Lesser Antilles later this week, Chantal is expected to affect areas of the Dominican Republic, Haiti and Cuba.