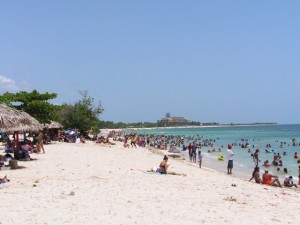 Ancon Peninsula shoreline ecosystem already looks different.
The change resulted from several actions so far carried out that included reforestation, elimination of invasive plants, and the increase of environmental surveillance.
Besides the Institute of Physical Planning (IPF), and the Ministries of Tourism and Environment, some other entities are involved in the preservation of the peninsula, such as Flora and Fauna Enterprise, the National Institute of Water Resources (INRH), and the Ministries of Construction, Domestic Trade, and Transportation, among others.
Given the increase of dwellings in the area, governmental authorities recommend that the promotion of tourism must not undermine the valuable natural resources found in the location.
A study carried out some years ago by the Beach Study Center, from Varadero, and the Center of Environmental Services, from Sancti Spiritus, identified the presence of excessive compaction, shortage of sand, and erosion, all of which were due to mismanagement.
Punta de Ancón, Topes de Collantes, the Valley of the Sugar Mills, and Casilda's quartz rocks formations, all located in Trinidad, are included in an international project sponsored by the Global Environmental Fund (GEF) through the United Nations Development Program (PNUD).
According to Isora Montano Perdomo, expert from Sancti Spiritus Environmental Center, the five-year-term project will allow the acquisition of work tools for the management of the landscape, especially the control of exotic species, as well as the training of personnel.