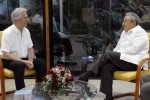 Cuban President Raul Castro received former head of state of the Oriental Republic of Uruguay Tabare Vazquez, who is visiting the island.
During the fraternal meeting held yesterday, both officials talked on international and regional issues, according to the TV national news program.
In the conversation, Vazquez recalled his previous visits to the island especially one he did in 2008 as dignitary.
Vazquez was the President of Uruguay from 2005 to 2010.
Uruguay's ambassador to Cuba Ariel Pergamino, and Cuban Foreign Minister Bruno Rodriguez Parrilla also attended the meeting.