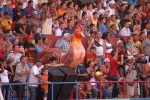 May rains affected the continuation of the 2013 postseason games between Sancti Spiritus and Matanzas in the Jose Antonio Huelga Stadium.
Should cloudy Tuesday allow it, actions will resume at 8:15 pm (local time) as Roosters are to take profit of their home condition to try getting a second victory vs. Victor Mesa's brave Crocodiles.
The starters announced for both teams are Camaguey's Norge Luis Ruiz, who has become the best candidate for Rookie of the year in Cuba, and Guantanamo's Frank Navarro, of recent inclusion in Matanzas baseball squad.
The first encounter between the two teams favored the locals, who took a 5×4 win on Sunday to start ahead in the seven-game playoff.
After the two games Sancti Spiritus is to play as local, there will be two free days, one for moving to the only western province in semis, and the other to rest.
So far Cienfuegos and Villa Clara are tied with one victory each, and are scheduled to begin on Wednesday the Subseries in the Augusto Cesar Sandino Stadium.