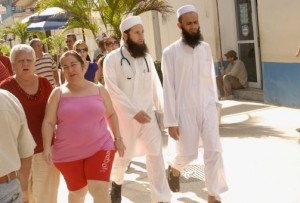 Cuban education and health cooperation agreements include undergraduate and postgraduate scholarships for foreign students mainly from Latin American, African, and Asian countries.
According to Dr. Caridad Cancio Lopez, Rector of the Capitan Silverio Blanco Nuñez Pedagogical Sciences University in Sancti Spiritus, 70 students from 17 different nations are currently following undergradaute courses in that institution.
Most of them come from Angola, and there are also students from Nicaragua, Mexico, Sahrawi Arab Democratic Republic, Laos, and Viet Nam, among other countries. Five overseas students undergo PhD courses in this same institution, which is the only local college allowed to grant such scientific degree in this central Cuban territory.
Sancti Spiritus's Dr. Faustino Perez Hernandez University offers courses on Medicine, Health Technology, and Nursing. At present moment, 672 students from 32 different nationalities are taking nursing courses, most of who come from Pakistan, South Africa, Mexico, and Bolivia. This was told to Escambray by Alexis Cruz Hernández, director of Foreign Relations in this university.
Moreover, 146 foreigners undergo post graduate courses on General Integral Medicine, Cardiology, Oncology, Surgery, and  Prosthesis.