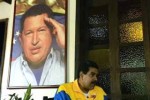 President of Venezuela Nicolas Maduro reminded today the Commander Hugo Chavez, who died in this city.
Born July 28, 1954, Chavez became president of the Republic on February 2, 1999 until the time of his death due to cancer illness, on March 5 this year.
Through the social network Twitter, Maduro wrote "Commander to five months of your departure, you are in charge of the country with the strength of your immortal legacy. Chavez lives".