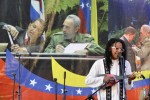 A group of Cuban artists will pay homage to Bolivarian leader Hugo Chavez with a cultural program taking place Saturday evening at the Havana-based Casa del ALBA Cultural Center.Among those who performing at tonight activity here in the Cuban capital are: Vicente Felíu, Tony Avila, Raul Torres and Rochy Ameneiro, as well as the Entrevoces chorus, directed by Digna Guerra.
The invitation to the gala says that Chavez was the promoter of Latin American unity, an exceptional man, a hero and the invincible Commander and President.
And Cuban artistic delegation in Caracas, headed by Abel Prieto, the former Minister of Culture and now an advisor to President Raul Castro, paid homage to Hugo Chavez during the state funeral service for the Bolivarian leader.
In his words at the tribute-paying ceremony, the president of the Cuban Association of Artists and Writers Miguel Barnet said that he conveyed the deepest condolences of the Cuban people and he also read a message sent by Prima Ballerina Assoluta Alicia Alonso.