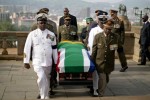 Official ceremonies to pay tribute to the recently dead ex President Nelson Mandela continued in Pretoria and Cape Town with funeral processions in the capital and a mass memorial act in the southern city of this country.
According to the government, about 2,000 people are expected to parade before the remains of the also known as Tata Madiba, who died at 95 years old last December 5 due to a long infection which kept him seriously ill for about all this year.
The funeral cortege with the body of Mandela will travel the main avenues of Pretoria for three consecutive days, so that the whole population can give him the last good-bye through popular demonstrations.
Government's spokesman Neo Momodu said that the funeral procession routes will be announced every morning, and the population must remain in the sidewalks, without crowds interrupting the correct development of the funeral procession.
The remains of the anti-apartheid fighter will rest at the Union Buildings executive headquarters from December 11 to13, where the South African people and foreign delegations could go to pay tribute in a scheduled time, said Momodu.
Authorities in Cape Town, South Africa's second most popular city, also organized a funeral service for today to pay tribute to Mandela at Cape Town Stadium on Wednesday, similar to the one held a FNB Soweto Stadium on Tuesday.
The mayor of Western Cape Province's capital, Patricia de Lille, said that thousands of people are expected to attend this tribute.
President Jacob Zuma declared 10 days of mourning in the country for the death of Mandela, who had an impressive international repercussion and hundreds of thousands of condolence messages were sent to his relatives.
Cuban President Raul Castro said in his speech in Soweto yesterday that the ex South African president and Peace Nobel Prize will be remembered as the man who could lead his people in hard moments with his wisdom and generosity.
Mandela is an important example for Latin America and the Caribbean, regions moving towards integration in favour of their peoples, said the Cuban president.
The closing funeral procession is scheduled for Sunday December 15 in the southern Qunu locality, in Eastern Cape, his native town, and the final rest of Madiba's remains.