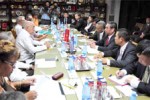 The Second Secretary of the Communist Party of Cuba, José Ramón Machado Ventura, chaired on Thursday official talks with Le Hong Anh, Permanent Secretary of the Central Committee of the Communist Party of Vietnam, who pays an official goodwill visit to Cuba.
According to a report published Friday by newspaper Granma, the two leaders exchanged views on the political and ideological work of both parties, the bilateral trade and economic relations and current domestic and international issues.
Also participated in the talks, José Ramón Balaguer Cabrera and Olga Lidia Tapia Iglesias, members of the Secretariat of the Central Committee of the Cuban Communist Party. The Vietnamese side included Ambassador to Havana, Vu Chi Cong, and members of the visiting delegation.
The report did not provide any other details.
Le Hong Anh arrived on Tuesday in Havana for a four-day official visit.
This is the third visit to Cuba of the top Vietnamese Communist Party leader.