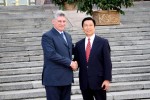 Senior leaders of Cuba and China reiterated the excellent level of political, economic and social bilateral relations and their intention to monitor the depth of those ties at the government, communist parties, and peoples level.
That was the view shared by Cuban First Vice President Miguel Diaz-Canel, member of the Political Bureau of the Communist Party of Cuba, and his host, Vice President Li Yuanchao, also member of the Political Bureau of the Communist Party of China.
Diaz-Canel began on Monday a tour to Asian countries which will include China, Vietnam and Laos, and was welcomed with a ceremony at the People's Great Palace, in front of Tian'anmen Square, in this capital.
Accompanied by Li, the Cuban leader reviewed the troops after hearing the notes of the two countries' national anthems, and later both leaders went to one of the halls of the Palace to begin official talks leading their respective delegations.
The Cuban first vice president expressed admiration for China, which considers a reference for the achievement of its objectives, taking into account the particularities of each country.
One aspect discussed was the progress of cooperation in the Asian country with the region of Latin America and the Caribbean, and Cuba's role as an element that welcomes them warmly, and supports today as the pro tempore president of the Community of Latin American and Caribbean States (CELAC).
Chinese Vice President recalled his visit to Cuba in December last year as a special envoy of President Xi Jinping, interviews with President Raul Castro and other leaders, and highly assessed the detailed explanation by Diaz-Canel on the updating of the economic and social model in his country.
At the end of talks, Li and Diaz-Canel attended the signing of three agreements, one of them a donation, another an interest-free credit and the last credit an agreement for the purchase of machinery and equipment for the Cuban agriculture.