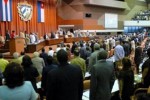 The Cuban Parliament is electing today the president and 31 members of the State Council, the main body representing the State in the Island.Gathered at Havana Convention Center, the 612 members of Parliament, elected in general polls on Feb. 3, are scheduled to choose among them, through secret voting, the members of the Council.
They will elect the president of the State Council, who is the head of State and Government, as well as the first vice president, the five vice presidents, the secretary and the remaining 23 members of the Council, which is the body that represents the National Assembly in the time between its two yearly ordinary periods of sessions.
The National Commission of Candidacy, a body made up of mass organizations of workers, students, women and farmers, presents to the plenary its proposal of candidates to form the Council.
Previously, the parliamentarians will elect the presidency of the National Assembly of the People's Power (Parliament) for the next five years, the term of every legislature, under the current Constitution, which was precisely proclaimed on Feb. 24, 1976.
The 612 members of Parliament were elected in polls involving some 7.90 million citizens, around 90 percent of registered voters in Cuba.