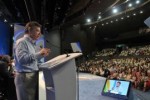 The 6th Summit of the Americas ended without final declaration as no consensus was reached, announced Colombian President Juan Manuel Santos, while USA continued to isolate Cuba.
Santos did not considered the meeting of the heads of state and government of the Western Hemisphere as a "failure" as he reported on the results of the event closed on Sunday in Cartagena, an event marked by the differences among Latin America, USA and Canada on some key issues like Malvinas and Cuba.
The most concrete outcome of the continental gathering was the decision to provide OAS with sort-of-a leadership to analize drug trafficking with more efficacy, after 40 years of battle.
Santos baptized the Summit of the Americas as a "talked and sincere" event while emphasizing there were no forbidden issues on the agenda.
As for Cuba, the Colombian leader said that for the first time ever, a great majority of the participant countries demanded to include this country in this kind of meetings and with respect to Malvinas he called for a peaceful and negotiated solution to the conflict between Argentina and the United Kingdom.
However, President Obama continue to isolate the Caribbean country with the ridiculous argument that "Cuba has not yet moved to democracy, has not yet observed basic human rights."
Taken from Cubadebate/Translated by Escambray