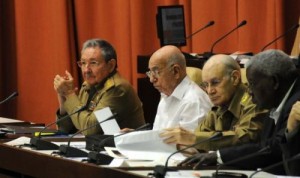 Cuban President Raul Castro attends on Thursday the plenary session of the National Assembly of the People's Power, in which the economic plan and budget for 2013, as well as the performance of both aspects this year, are to be submitted to approval. The Parliament deputies, of around 600 members, were called for the last ordinary period of the 7th Legislature.
Discussions of the 10th Ordinary Session of the National Assembly of the People's Power take place after three days of work at the Havana's International Conference Center, where the 12 standing committees met on Monday, December 10, and Tuesday, December 11, and many agencies presented their reports yesterday.
According to previous discussions, the plan and the budget will be governed by the principles of searching for productivity, efficiency and savings, in tune with the guidelines of the 6th Congress of the Communist Party to update the socio-economic model of the Caribbean country.
Preliminary data state a 3.7 percent growth of the Gross Domestic Product (GDP) in 2013, higher than 3.4 percent estimated for this year, in which the indicator must ultimately close at 3.1 percent, as of breaches in the construction sector.
Social areas such as health, education and culture must maintain a significant weight within budget, although with a more rational approach, in tune with the economic update, legislators said.
It is expected that Marino Murillo, who leads the commission of implementing the Party's guideline, speaks in the Assembly plenary session.
Cuba is making progresses in its socio-economic changes, among them the revival of the socialist enterprise, the rise of non-state forms of management, encouraging exports and import substitution, the priority of raising food production, and the application of science in terms of development.
These issues were discussed in the standing committees, along with others such as renewable energy, tourism, environmental protection, public health, and strengthening of participatory democracy.