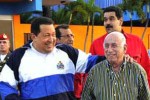 President Hugo Chavez returned to Venezuela on Wednesday night after completing the third phase of the radiotherapy treatment he's receiving in Cuba following his most recent surgery.According to Granma, the Venezuelan president was seen off by Cuban First Vice President Jose Ramon Machado Ventura.
Upon his arrival in Caracas, Chavez greeted well-wishers at the airport, waving, shaking hands and kissing some on the cheek, before he headed for the Miraflores presidential palace where he met with several members of his Cabinet.
Chavez's return to Venezuela coincides with the tenth anniversary of a coup d'etat that briefly removed him from power and, according to press reports, he is expected to take part in events commemorating the failed 2002 coup.
On that occasion, thousands of his supporters took to the streets to demand his return to power while numerous military officers remained loyal and rescued him from dissident military officials who held him prisoner.
On Wednesday, Chavez's supporters marched through downtown Caracas, chanting pro-government slogans and waving red, yellow and blue Venezuelan flags.