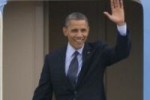 U.S. President Barack Obama, ignored the consensus of the majority of countries in the region to invite Cuba to the Sixth Summit of the Americas which will be held this weekend in Cartagena.
In declarations to the Colombian newspaper El Tiempo, Obama reiterated his refusal even though 32 countries expressed themselves in favor, in the past 34 hours, of including the Caribbean nation in the meeting of Heads of States and Government.
The U.S. president conditioned the assistance of Cuba to such a forum to the cessation of alleged human rights violations committed in the island, a position also shared by Canada, and that has been a traditional part of Washington's hostile campaign against the island. Because of the opposition from both northern governments, last night failed the last-minute proposal to invite Cuba, which was promoted at the foreign ministers meeting prior to the summit that will end on Sunday.
The resistance of the governments of United States and Canada contrasts with the growing support to the initiative among participants to the event that addresses relevant issues to the continental level.
Colombian University Students against Obama Visit

Colombian authorities suspended classes at public universities in this capital to avoid "public order disturbances", after students protested the arrival of U.S. President Barack Obama.
On Thursday, a group of students from the National University, the main in Colombia manifested in rejection to the visit of Obama from this Friday on to attend the VI Summit of the Americas, in Cartagenas de Indias.
The action affected traffic in the country in one of the busiest avenues of this city.
The government secretary, Jorge Rojas announced the suspension of classes.
"We respectfully request the president of the national universities, the Education District to suspend classes on Friday for the protests that occurred in the afternoon, and they agreed," he said.
He specified the measure also seeks to focus the activities in the assistance of emergencies caused by the rainy season, after the declaration of orange alert in the capital of the country.
Obama arrived this Friday to the Caribbean island of Cartagena to attend his second Summit of the Americas.
(Taken from PL)