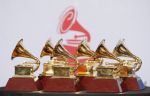 The albums La Maquinaria, by Los Van Van; Un bolero para ti, by Eliades Ochoa; and La trova de siempre, by the Quinteto Criollo, are the Cuban productions that have been nominated to the Latin Grammy Awards, in its 13th edition.
The CD of the group directed by maestro Juan Formell competes in Best Contemporary Tropical Album, according to the list released by the contest's organizers.
The CD by Eliades Ochoa appears on the list of those opting for a prize in Best Traditional Tropical Album. The CD by the Quinteto Criollo also competes in this category.
The ceremony to announce the winners of Latin Grammies will take place at the Mandalay Bay Events Center of Las Vegas, on November 15.